No one wants to outgrow their biggest investment. Your forever home should be just that, built and designed inside and out to last as long as you hang your hat there. In today's blog post I'll be sharing a few important and easy ways you can design your home in order to support your family long term.
1. LET'S TALK WINDOW TECH
I've been in this business a long time and one of the most beneficial and powerful home upgrades is the use of motorized window treatments.  Motorized functions for windows and even doors are now offered in blinds, shades and drapery.  Motorized options are vast in functionality and style, and come in offerings of just about everything  from light filtering, to blackout options and wireless capabilities, all in hundreds of thousands of stylish fabrics. Many can be integrated with cloud based voice services like  Amazon Alexa. They can be scheduled to open and close at specific times of the day, protecting  your furniture and flooring from excessive sun damage. They act as a security function for when you are away from home opening and closing at pre-determined times of day and night.
2. EASY WINDOWS
Most of our homes come with windows that open using up and down mobility.  Long term, these are not as easy to function.  Window companies have created stylish windows that are more widely used in new construction, and being installed in older homes as well. The windows open in an inward and outward movement. This is much easier to operate. It is most beneficial when homeowners are older and could use the easier function. These windows have a cleaner look while giving the illusion of a bigger space. Energy efficient windows are designed to keep the heat or cool air from escaping. This increased insulation reduces your homes energy usage and therefore your bills!
3. KITCHEN FUNCTIONALITY DOES NOT SACRIFICE BEAUTY
We are always wowed by the new designs and function options offered in custom kitchens today. Kitchen cabinet designers are getting more innovative in maximizing cabinet and drawer space. Drawers are now used more often than not in under counter storage for easier access.  Drawers also contain many organized built in components for pots, spices and dishes.  The space is more space optimized,  while the ease and function of the kitchen is highly advanced.
4. GET CLEAN
YOUR BATHROOM.  As we get older, the ease of getting in and out of a shower becomes a safety priority. Stand up showers can be built with zero entry access and have attractive support bars for ease of getting in and out.   We often Install a bench seat with a hand held shower head within easy reach.  Clean tile designs add to the sleek look making the bathrooms appear larger.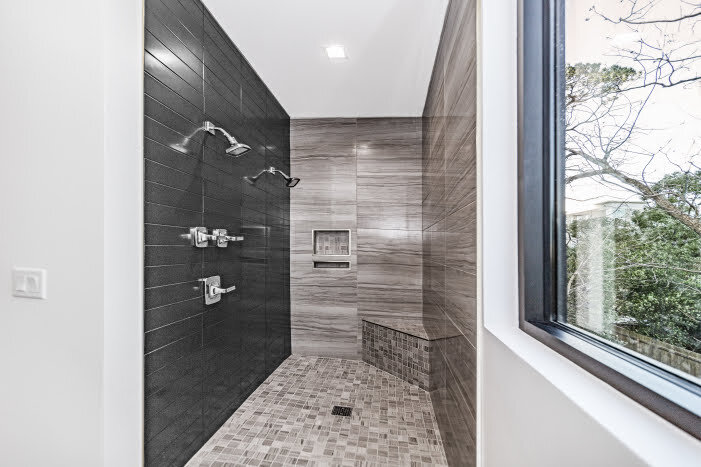 5. A SOFTER UNDERFOOT
Softer flooring is kinder on our backs and feet. Durable yet softer step flooring is widely available now in beautiful designs of  luxury vinyl and tile that  often are mistaken for real wood. Cork flooring is a new addition to soft flooring designs. We  love that rug layering is becoming more of a trend. It is stylish, and  more comfortable on your feet. Make sure to use non-slip rug pads which  add extra padding underfoot.

6. OPEN THE DOOR, PLEASE
Many of our clients are opting for lever style door handles rather than the traditional knob.  They are more practicable and easier to open, and come  in such gorgeous options like antique brass, nickel, gold and silver finishes. Higher tech keyless door locks allow you to set temporary codes for visitors, pet walkers or workers. You don't need to bother carrying bulky keys to the gym or on your daily run, and no keys to loose! If you rent your home to vacationers, just change the code when they leave..and do it from your smart phone or tablet.
7. GET SMART
Home technology is continually evolving. Beyond motorized windows treatments, your entire home can be a "smart home" with new technology offerings that can operate most home functions from the touch of your phone. Doorbells have visual applications enabling you to see who is at the front door or if a package has been delivered. You can even talk to the person if you are not at home. This security feature is invaluable. Smart enabled  homes can control lighting, temperature functions, music and your window treatments. And don't get me started on Smart Appliances. It was a big deal when ovens came with a self cleaning feature or a refrigerator had an automatic ice maker or water in the door. With Google Assist or Amazon Alexa, you can keep tabs on the oven temperature,  after you have preheated on your way home.  A Smart refrigerator will keep track of the items inside and create a list for shopping generated from bar codes on the items, Now, if only they come out with a home chef!
  Wondering when is the best time to get started on your forever home? Let's chat! Cheers, Diane