Your home truly is a reflection of who you are!  Whether planned or just by accumulation over the years,  your furniture, accessories and overall home interiors somehow reflect your personal taste and style. It is a combination of your aesthetic and personal style. Do you feel your home doesn't fit you? Go on a journey to discover your style!  With that said, I am here to offer you ways to discover your design aesthetic and, if needed, combine the old with the new.  Mixing already owned furniture with new can be done beautifully but sometimes your aunt's old sofa just has to go. Let's get started.
Step 1. GET INSPIRED
First, find your inspiration for your home. Go through Pinterest, Instagram and interior decor magazines. Save images without deciding why you like them but just that you do.  Decide on what colors you would want to live in. What colors inspire you, relaxes you and make you feel like yourself? Next figure out your design tastes.  What design reflects your personality? Do you prefer a modern look or are you more relaxed in casual, oversized comfy chairs? Do you prefer a less is more approach or do you like a lot of furnishings?   Make a list of specific design elements you seem to gravitate to as well as a list of items to stay away from. This will narrow down your personal style and get you closer to designing your living space.
Step 2. CREATE YOUR OWN MOOD BOARD
After you've saved countless Pinterest images and magazine clippings, its' time to scale down to your favorites and create an image board.  Put the colors you want for your space on the board along with any images that you think will get you closer to a perfectly designed space that feels more like you!  Whether you keep this board saved on your computer or print out the images and pin to a poster or cork board, we find it best to have the visuals all in one space in the room so that you can start envisioning the design styles in your own home.
Step 3. NOW MAKE IT YOUR OWN
Now its time to use the design ideas you've created to create a space you love and call your own! Decide on your budget and where it makes the most sense to spend. If you need to replace furniture then consider which piece deserve the majority of your spending.  An investment in a good sofa or piece or furniture can last a very long time, while accessories like pillows and art don't have to be pricey to look good and can be easily and more affordably replaced down the road.
Decide on the focal point in your room. Is it the fireplace or perhaps you want to paint one wall different from the others. Once you've decided the main focal point you can design from there on out.  Decide how you would like the furniture and other room accessories placed from that focal point. What arrangement gives you the most space to live in? Where do you get most of your light in the room. Perhaps this is where you want your seating arranged if it fits the space.  This is where you can get creative.  You may arrange and rearrange a few times to find the most comfortable and aesthetic look that you desire but so what?
We didn't say it was going to be easy.  Have fun with it! Or, better yet call us. We would love to help!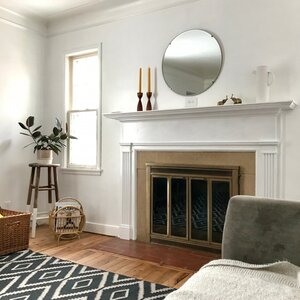 Do you have a mood board you want to share with us? Share below, and ask us how we can get you started on creating your own personal space. We live for this stuff!
Cheers,
Diane