As we all shelter in place for the next month, perhaps it is time to create a Home Office Retreat. No matter who you are or what you do, having a designated space for productivity and creativity is an absolute necessity. No matter how much space you're working with, creating an organized and stylish home office can be easy, fun and affordable.
Let's take a look at what's important in the space and how you can achieve both functionality and good aesthetics.  First, find a space. It could be a spare bedroom, or  a corner of an existing space in your home. Do you have an under utilized space in the attic or basement for instance? Or perhaps a niche next to a fireplace or under a set of steps? An under utilized closet works as well. Just take off the doors. If you already have an office space, kudos to you. Maybe it's time to update and make it more functional.
1. An Office Chair or Other Great Seating
Now that you have defined your space, let's build an office. Comfortable seating is a must! Working on the kitchen counter just will not do for the long run. Believe me, your back, neck and shoulders will thank you for this. I have used upholstered leather chairs from places like Costco and Staples. The Aeron chair from Herman Miller is stylish and ergonomically designed for comfort.
2. A Work Surface that…Works.
Next your work surface needs to be just right. Be sure the height of the desk and your chair are compatible with your body type. Does your mouse pad slide across the surface area easily? Should you have a mouse pad with wrist support?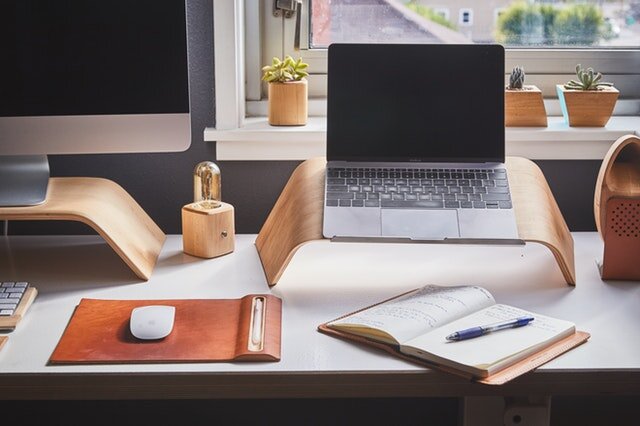 3. Peace-Inducing Storage & Filing Solutions
Having a clutter free work space allows you to focus and gives you peace of mind. Being organized is key. You will need a file cabinet, and some storage space for supplies like paper for your printer, extra ink cartridges, and writing implements. If floor space is at a premium perhaps hanging a few shelves will do the trick. There are also small containers that can be clipped onto some desks which can store your writing instruments.
4. Lighting that Actually Inspires You
No matter what your work space consists of, proper lighting plays an important role. Poor lighting can strain your eyes, cause headaches and reduce productivity. If natural light isn't an option, artificial lighting is even more important. Be sure to have at least task lighting on your desk and overhead lighting if possible. Research has found that short wave length or blue light during the day improves alertness and performance.
5. Soft Elements for Comfort & Less Echo
Lets talk about sound. Loud noises can be distracting and affect productivity. With many of us working on Zoom or video calls, we need to be sure there is no echo or feed back. Items like an area rug, soft chair , pillows or even plants help absorb the sound.
6. A Beautiful Backdrop (for those Video Calls!)
Do you love the Brooklyn Bridge, the Grand Canyon or swaying palm trees? Did you know you can create a back drop for your video calls or purchase one for about $10? Some of the ones I've seen created make the home office appear large and fully decorated! No one has to know you are working from your closet!
7. Final Touches that Make You Smile
If the new normal is working from home, maybe even a little more than in the past once this is over, make sure your office has elements that make you smile! Photos of the kids, grandkids or furry kids, plants or candles always add a personal element to the space.
Check out photos of office spaces on pinterest or instagram for inspiration. You've got this!
Have a question about designing your home office? Ask us in the comments below and we'd be delighted to weigh in!
Cheers,
Diane